Union Minister Shobha Karandlaje, Minister K. Gopalaiah along with other BJP leaders offer prayers at the temple of Lord Hanuman in Bengaluru on Tuesday. , Photo Credit: PTI
Top leaders of BJP and opposition Congress sought to invoke Lord Anjaneya on the eve of polling day and used it to make political points.
Chief Minister Basavaraj Bommai offered prayers at the Hanuman temple in his home town Hubli. Hanuman Chalisa was also chanted at the BJP state office in Bengaluru.
BJP leaders Shobha Karandlaje, Gopalaiah and Malavika Avinash offer prayers at Veeranjaneya Temple in Mahalaxmi Layout in Bengaluru. He targeted the Congress he talked about after worship Possible ban on organizations like Bajrang Dal in its manifesto.
Referring to the Congress proposal to overturn the anti-cow slaughter and anti-conversion laws, he accused the opposition party of not respecting the religious sentiments of the majority community.
BJP workers will chant Hanuman Chalisa in various temples of Karnataka on the eve of elections Seek strength from Lord Anjaneya He said that to protect his religion.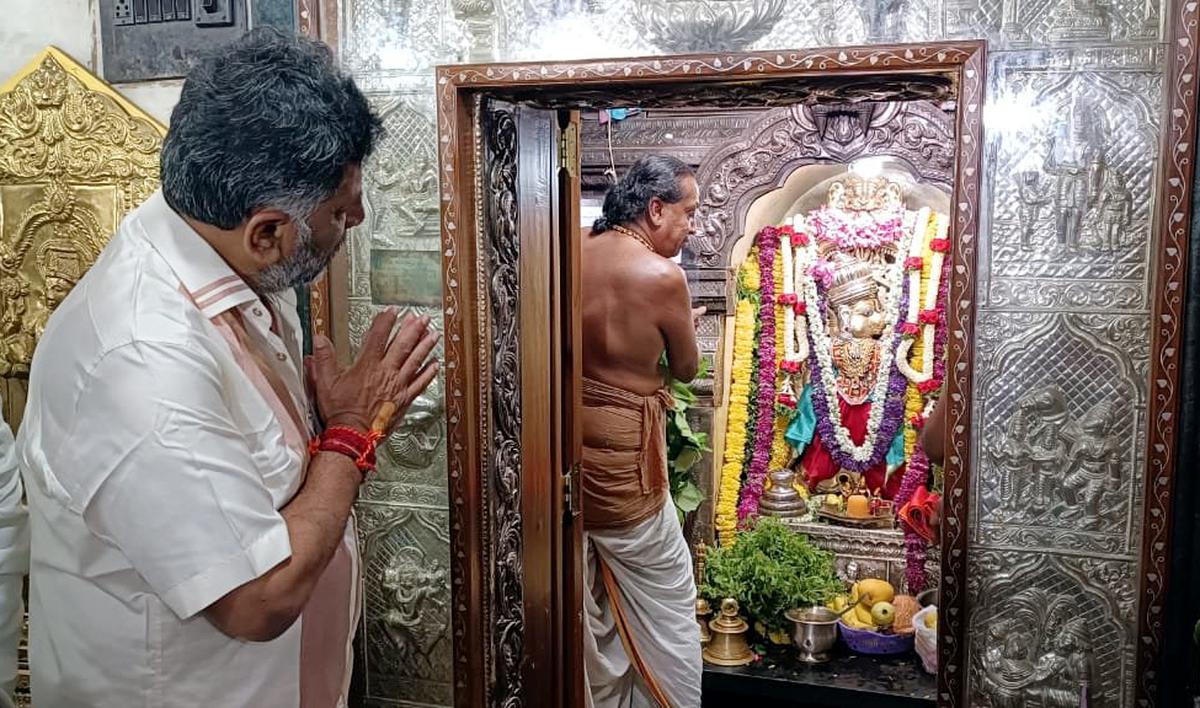 Karnataka Congress President DK Shivakumar offers prayers at the Anjaneya Swamy Temple in Bengaluru on Tuesday. , Photo Credit: ANI
The Congress tried to counter the BJP's narrative with its state president DK Shivakumar's visit to the Anjaneya temple at Mysuru Bank Circle in Bengaluru. He said that he worshiped Lord Anjaneya and sought the strength to serve Karnataka like him (Anjaneya). During the worship, the Congress leaders placed the party guarantee cards at the feet of the deity.
Responding to Ms. Karandlaje's allegations that the Congress election manifesto was set to reverse various initiatives of the BJP regime, he said that the Congress was committed to what was announced in its manifesto, including the withdrawal of the National Education Policy Is.
Meanwhile, Mr Shivakumar left for Mysore in a helicopter on Tuesday, and offered prayers at the Chamundeshwari temple along with party veteran Siddaramaiah and other Congress leaders. The BJP objected to Mr. Shivakumar's entry into Mysuru as he is not a voter there.
Most leaders irrespective of party affiliation visited temples in their home districts or constituencies as it is a rule that political leaders who are not registered voters of the constituency must leave the constituency after public campaigning ends on Monday evening.