Priyanka Chopra Manipur has strongly reacted to the viral video, which shows the horrific incident of two tribal women being paraded naked and molested by a group of men in the state. The global star demanded swift justice and punishment for the culprits.
The Citadel actress wrote on her Instagram Stories, "Here's a video going viral…77 days after the heinous crime was committed…before action was taken. Logic? Reason? No matter – what and why, situational or circumstantial, we cannot allow women to be pawns in any sport." "The collective shame and anger now needs to be channeled in a unified voice for just one thing – speedy justice," she said with the hashtags 'shame together' and 'justice for the women of Manipur'. Along with it, Priyanka added two hashtags – "#togetherinshame," and "#justiceoforthewomeninmanipur."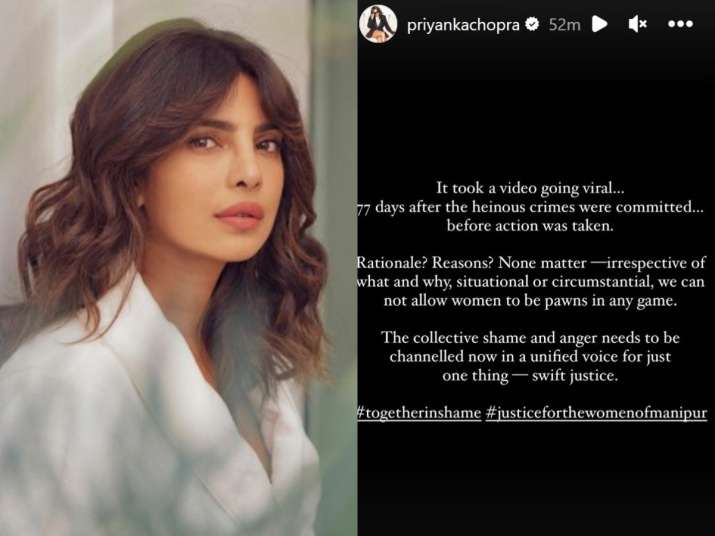 many Bollywood celebrities including Akshay Kumar, Kiara Advani, Renuka Shahane, Richa Chadha, Sonu Sood and others have also condemned the violence. Kiara Advani tweeted, "The video of violence against women in Manipur is horrifying and has shaken me to the core. I pray that the women get justice at the earliest. Those responsible must face the harshest punishment they deserve." Meanwhile, Akshay Kumar said, "Shocked, disheartened to see the video of violence against women in Manipur. I hope the culprits are punished so severely that no one would think of committing such a horrific act again."
Union Minister of Women and Child Welfare dead iranian Spoke to the Chief Minister of the state and also reacted to the alleged video. He tweeted, "The horrifying video of 2 women being sexually assaulted from Manipur is condemnable and completely inhuman. Spoke to CM N Biren Singh ji, who has informed me that the investigation is still underway and assured that the culprits will be brought to justice." No effort will be spared to apprehend him." Justice."
manipur case
Four people, including the main accused, have been arrested so far in Manipur's nude parade of women. Tension flared in the state after a May 4 video went viral, showing two women being paraded naked by some men. The incident hit the headlines on the eve of a planned protest march announced by the Indigenous Tribal Leaders Forum (ITLF) to highlight their plight.
A case of kidnapping, gangrape and murder has been registered at Nongpok Sekmai police station in Thoubal district against unidentified armed miscreants, police said.
Read also: From Akshay Kumar to Sonu Sood: This is how Bollywood stars reacted to the horrifying video from Manipur