Salman Khan
And Rakhi Sawant are good friends and the 'Dabangg' star has also helped Rakhi in times of personal crisis. Perhaps this is the reason why gangster Lawrence Bishnoi's gang has released a new email to Rakhi, warning her to stay away from Salman and announcing that they will kill the superstar in Mumbai despite the security measures. The gangster has also threatened Rakhi.
ETimes contacted Rakhi who revealed, "They are saying that if you talk about Salman Khan, we will kill you. But I will speak about Salman Khan as he has taken care of my mother when she was ill." Had helped. They had spent Rs 50 lakh. Try to save my mother from cancer. Why don't I speak? They shot Sidhu Musewala. People walk in candle march and cry after someone's death. Shouldn't we take a stand when someone is alive?"
Rakhi also revealed that she is not taking any legal action for the email she has received. She said, "I'm not taking any action. I'm scared and confused and don't know what to do. I'm leaving it up to God."
Rakhi received two emails from a man named Prince Mavi, who claimed to be from gangster Lawrence Bishnoi's gang and affiliated with the Goldie Brar group. The first email was sent to Rakhi on April 18 at 7.22 am and the second email was received on April 18 at 1.19 pm.
The first email was written in Roman Hindi and said, "Rakhi hamari tere sath koi ladae nahi hai tu salman khan ke matter mai involve mat ho varna tujhe bahut problem ho jayagi or tere bhai salman ko hum bombay mai hi marenge vo kitni bhi security bada le abki bar usse security mai hi marenge last warning hai rakhi tere liye varna phir tu bhai teyar rehna (Rakhi we don't have a bone to pick with you. You don't get involved in Salman Khan's matters or else you'll be in deep trouble. We will kill your brother Salman in Bombay regardless of how much security is employed to protect him. We will kill him in the midst of the security. This is your last warning Rakhi)." The message was attributed to a person called "Gurjar Prince".
The second email stated, "Rakhi hum tere ko last bar samjha rahe h iske baad nahi bongige salman khan ko koi nahi bacha sakta hume kisi ka koi dar nahi h salman ka gamand todna h bahut gamand h uske andar paise or power ka ya toh vo bhai goldy se baat kare ya marne ke liye tayar ho jaye usko uske ghar ke bahar hi marenge bahut jaldi (This is the last time we are explaining matters to you Rakhi. We will not repeat ourselves. No one can save Salman Khan. We are not afraid of anyone. We want to shatter Salman's ego. He's very proud of himself and his power and money. He should speak with Goldy bhai or else he should prepare to die. We will kill him right in front of his house)."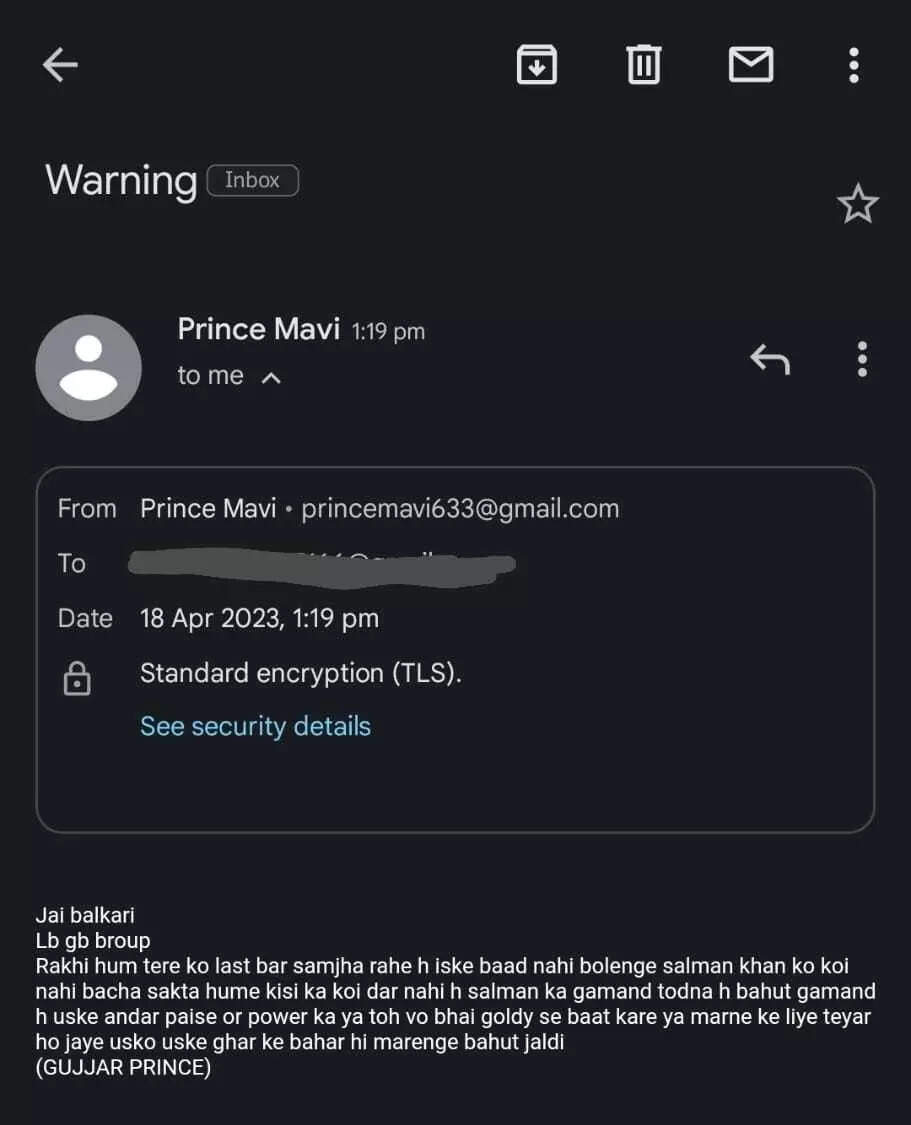 Salman Khan is currently busy promoting his upcoming film Kisi Ka Bhai Kisi Ki Jaan.