Water flows from the Babli barrage on the Godavari river in Maharashtra's Nanded district after the gates were removed on Saturday. , Photo Credit: By Special Arrangement
A deficient monsoon on the Upper Godavari basin has left the prospects of upstream Shri Ram Sagar Project (SRSP) receiving inflows grim, even as authorities have removed all 14 gates of the Babli barrage on the Godavari in Maharashtra's Nanded district, covering only 7 km. located upstream. Saturday at Kandakurthi in Nizamabad district where the river enters Telangana.
The barrage had only 0.47 TMC ft of water in storage when the gates were opened around 10 am on Saturday, July 1, 2023, in the presence of engineers from the Water Resources Department of Maharashtra, the Irrigation Department of Telangana and the Central Water Commission (CWC) . Sriramsagar received only 0.71 tmc ft of water with rains in the local catchment areas in June against its capacity of 2.74 tmc ft, while 5 tmc ft of water had reached the reservoir in June last year.
In its judgment dated 28 February 2013, the Supreme Court had directed Maharashtra to keep the gates of the Babli barrage open for 120 days, from 1 July to 28 October, to allow inflows from upstream to serve the Sriramsagar its ayacut. Could 7.28 lakh hectares (about 18 lakh acres) in the erstwhile districts of Adilabad, Medak, Nizamabad, Karimnagar, Warangal, Nalgonda and Khammam.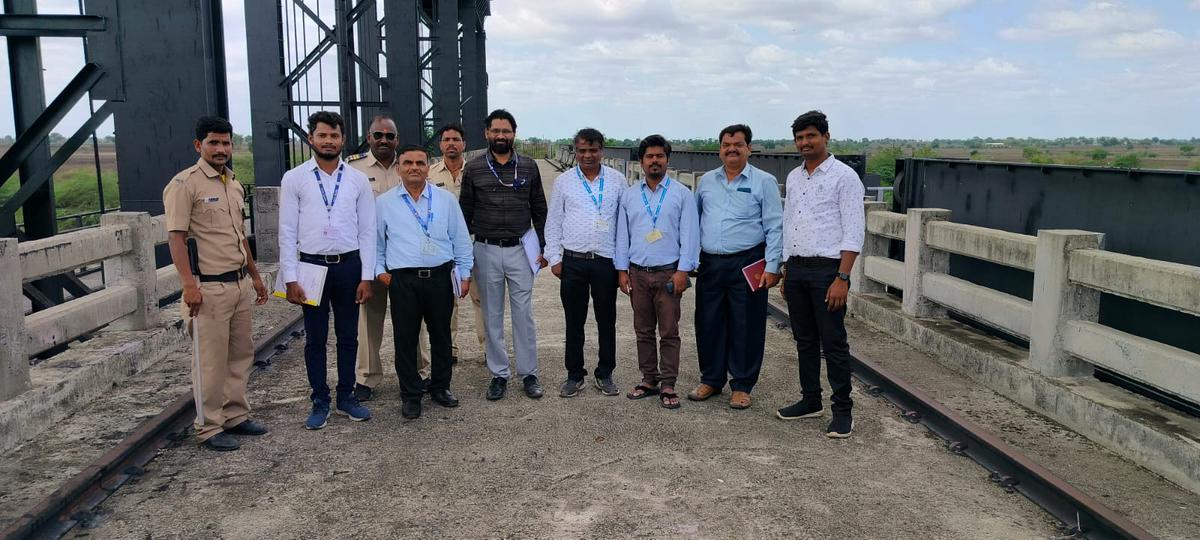 Engineers from the CWC, Maharashtra and Telangana, ahead of the lifting of the gates of the Babli barrage on Saturday, as per the 2013 Supreme Court judgement. Photo Credit: By Special Arrangement
It directed Maharashtra to lift 0.6 TMC ft of water downstream for drinking purposes for one day on March 1 every year. The gates will remain closed from October 29 this year till June 30 next year but the water usage by Maharashtra during this period will not exceed 2.74 TMC ft.
According to the engineers of Irrigation Department (Telangana), Babli barrage had only 0.06 TMC ft in 2016, 0.048 TMC ft in 2018, 0.42 TMC ft in 2019, 0.628 TMC ft in 2020, 0.94 TMC ft in 2021 and 1 TMC ft of water storage . When removing the gate on July 1st in 2022. As of Saturday morning, the SRSP had 20.068 tmc ft water storage, while in 2022 it had 23.432 tmc ft water storage as on July 1.
Engineers of CWC – Executive Engineer Venkateshwarlu and Sub-Divisional Engineer Prajit, from Maharashtra – Executive Engineer (Babli) Bansod and Dy EE (Babli) RRpotdar and from Telangana – EE (SRSP) M. Chakrapani and Asst EE (SRSP) M. Vamshi were present to supervise the lifting of the barrage gates.