D. Ved Vyas Kamath, MLA and BJP candidate from Mangaluru City South, talking to a senior citizen at Timpai Colony, Shaktinagar, during an election campaign, in Mangaluru on Thursday, May 4 | Photo Credit: HS Manjunath
BJP candidate from Mangaluru City South constituency and sitting MLA D. Vedavyas Kamath set out for door-to-door campaigning from his house in Mannagudda on Thursday, May 4, when he reached Thimpai Colony in Shaktinagar at 9 a.m. . At 9.30 a.m. senior BJP worker Gopal Shenoy Kodange, 88, felicitated him on behalf of the party workers by presenting him with torch, ginger flower and saffron shawl. Mr. Kamath, who is contesting for the second time, visited the houses of the colony after offering prayers at Shri Krishna Bhajan Mandir located on Shaktinagar Main Road.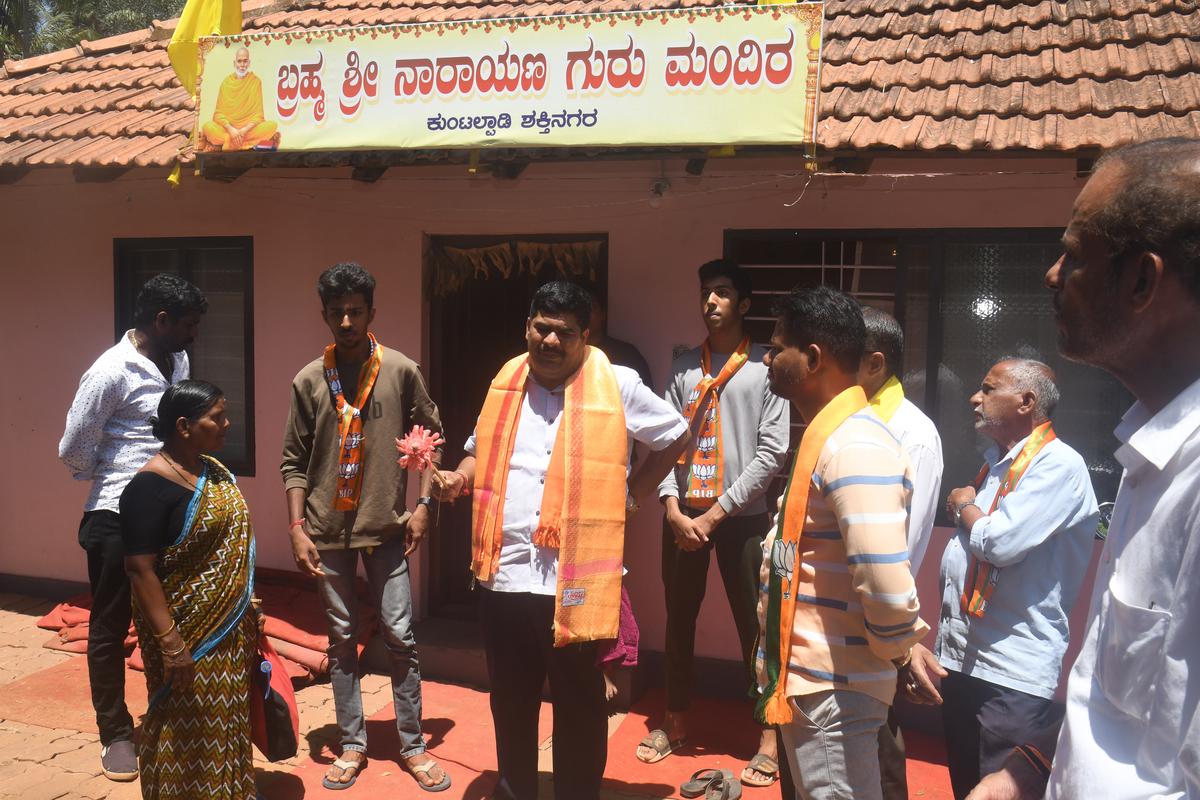 D. Veda Vyas Kamath interacts with residents at Kuntalpady in Shakthinagar. , Photo Credit: MANJUNATH HS
He called elderly women "dodda" and touched their feet to seek their blessings. As he offered 'namaskar' and asked for votes, several residents who recognized him as the MLA smiled at him and told him in Tulu, "Erege korpini" (will vote for you) while some replied in Tulu: Aavue" (okay) ). Some of them belonged to BJP workers and some belonged to Congress workers. "Most of the residents of the colony were BJP supporters," the MLA told this reporter.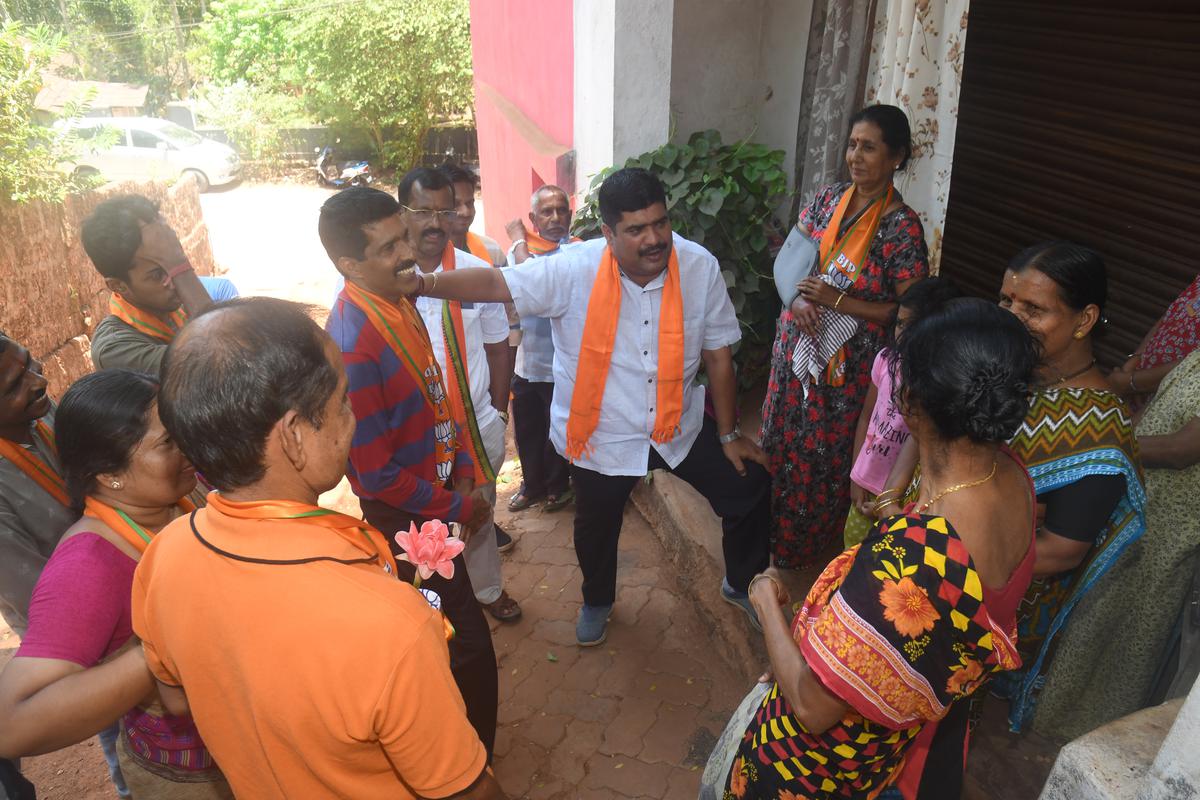 D. Ved Vyas Kamath spoke from his residence at Kuntalpadi in Shaktinagar. , Photo Credit: HS Manjunath
The MLAs sat in their homes for some time and interacted with the people. As soon as the MLA moved towards a house, he was confronted with a civil case. A Yashwant tells him that his neighbor does not allow him to build a boundary wall. He complained that the neighbors were quite convinced by himself and other BJP leaders but in vain. The MLA assured them to address it while reminding them that it is a civil matter.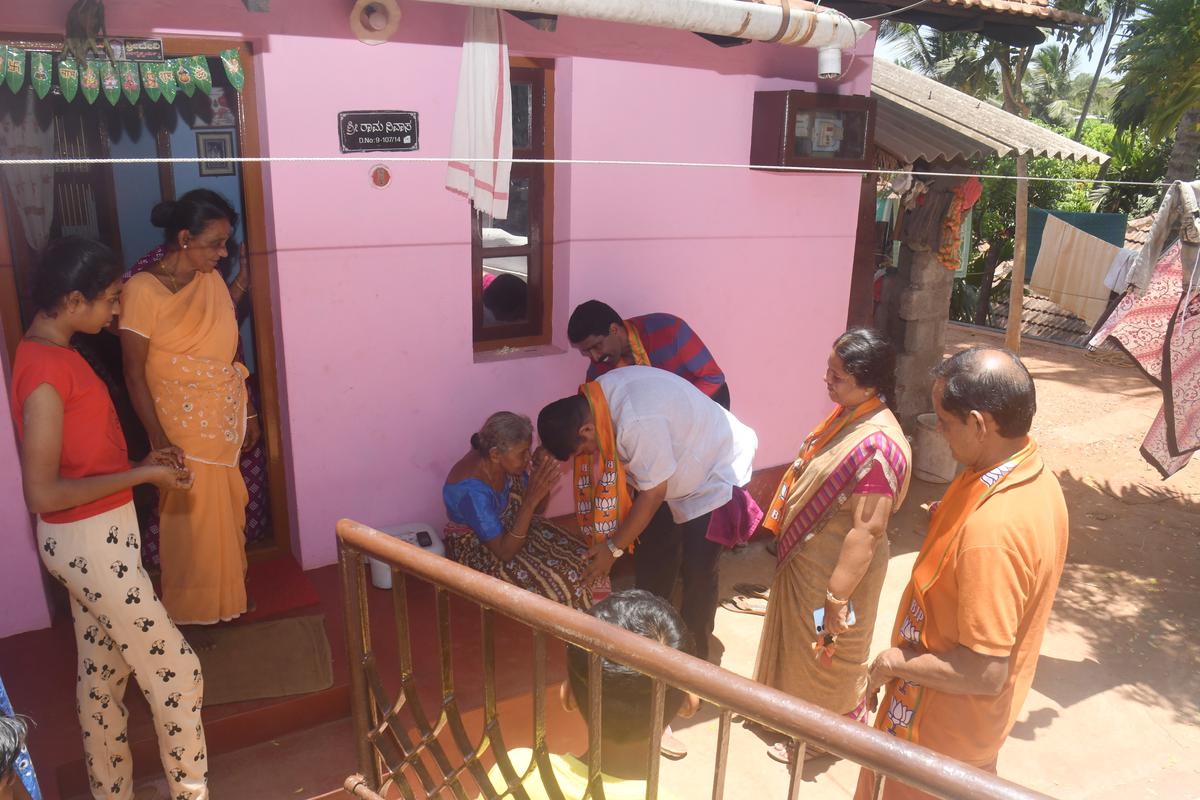 D. Ved Vyas takes blessings from an elderly person at Kamath, Kuntalpady. , Photo Credit: HS Manjunath
He moved to a house which is the house of a Congress worker. Mr. Kamath who had been sitting there for some time tells the lady of the house what he did for Shaktinagar. He said that the Padavu Friends Circle had requested him for a government pre-university college in Shaktinagar to be opened with a grant of Rs 5 crore for its building.
At a house, the MLA also met Lawrence Sikera, an ailing senior citizen, who briefed Mr Kamath about his health issues.
door-to-door campaign
At the house of a BJP worker, his mother Ravi performed aarti of the MLA and offered him raw coconut water and blessed him for election victory. The party worker assured the MLA that this time he would get a lead of 2700 votes in Padavu West ward.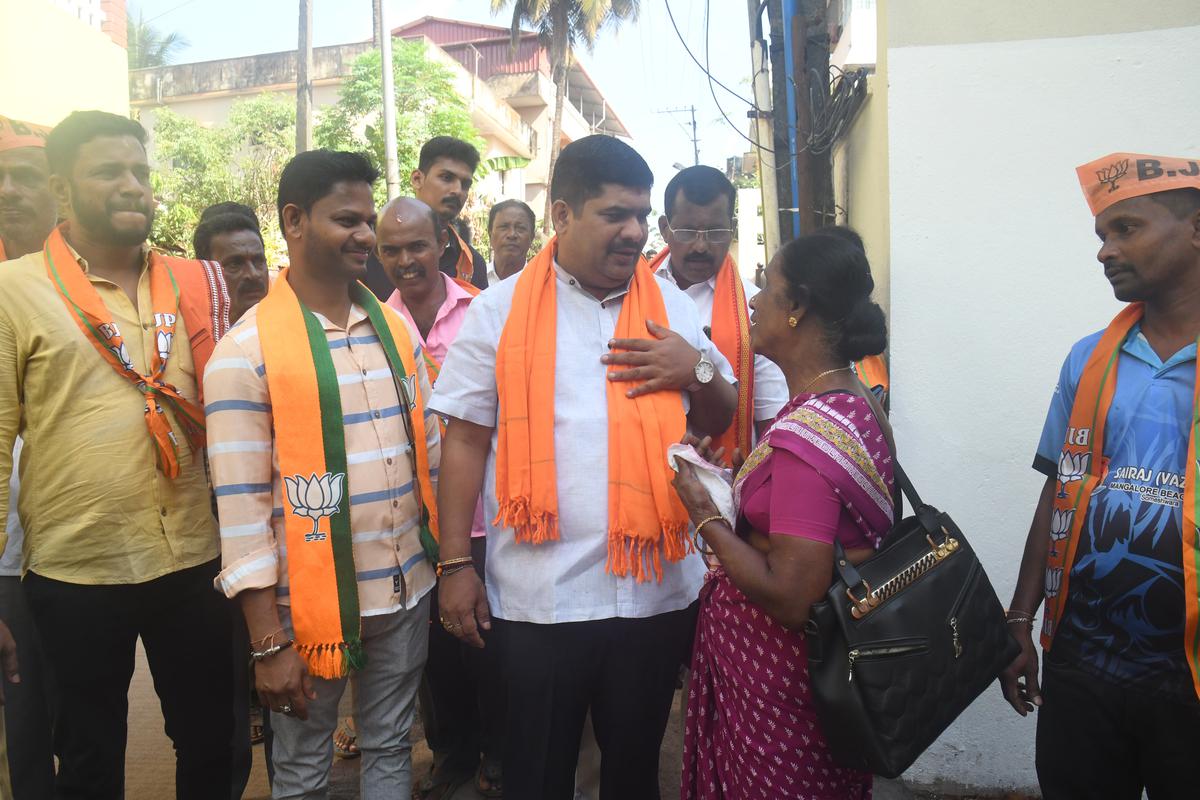 D. Ved Vyas Kamath talks to residents of Timpai Colony. , Photo Credit: HS Manjunath
Meanwhile, MLA Shri Devi Education Trust's secretary Maina S. went to a house in Kambala ward to pay their last respects to Shetty, who passed away on the night of May 4.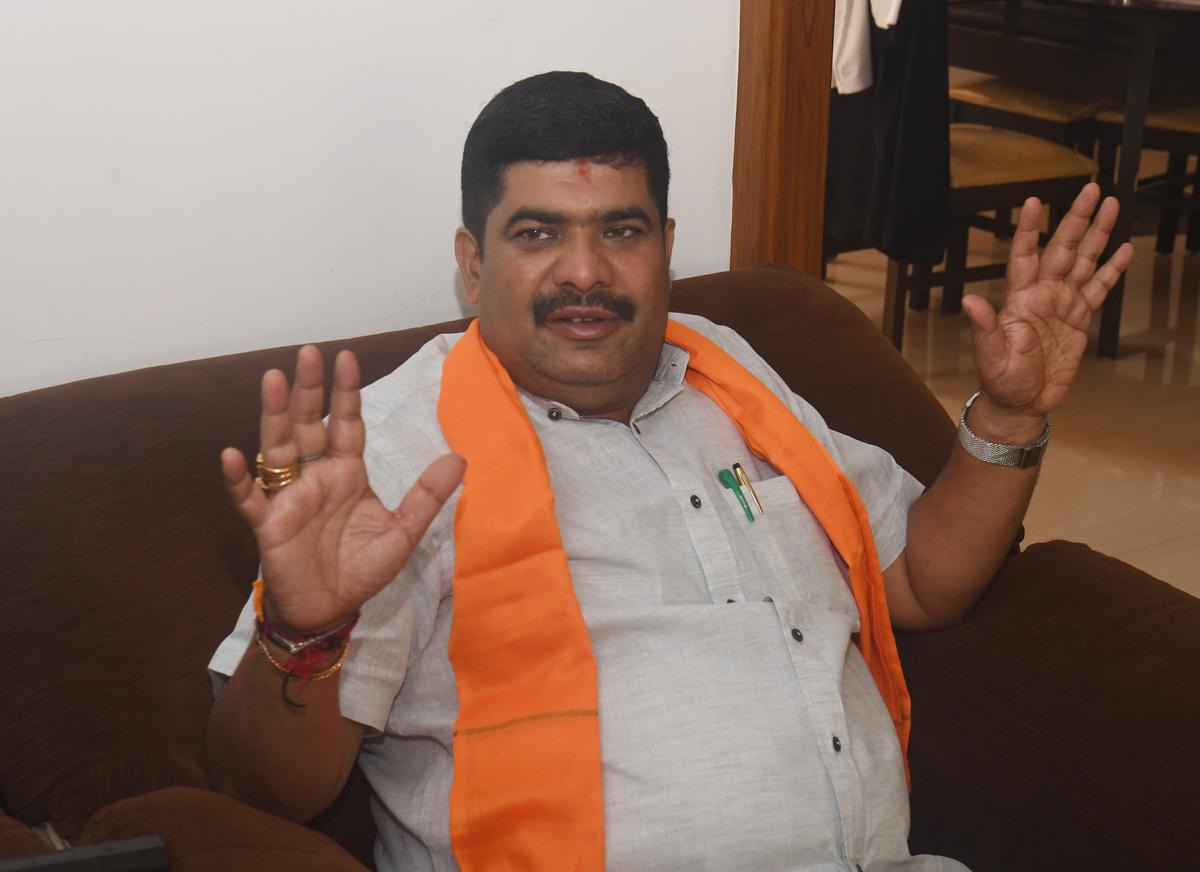 D. Ved Vyas Kamath in Timpai Colony. , Photo Credit: HS Manjunath
Immediately, later, the MLA visited the senior party worker's house in Ballalbagh and sought his blessings, where two television channels took his views on the campaign. He told the media that he was seeking votes on the basis of ongoing development projects in the city.
He later went to Shaktinagar's Kuntalpadi area where two women demanded underground drainage pipeline for their houses, which were at a height. The MLA told him about the technical reasons as to how it is not possible due to the topographical condition in the area. He told about another UGD project launched in the same area. He also offered prayers at the Brahma Sree Narayana Guru temple in the area and told the residents what the party had done for the people of the Billav community.
After eating mangoes at a roadside small shop where a woman approached him to solve the problem, the MLA took a break for lunch at 2.30 p.m.
released the manifesto
He released the party's manifesto for his constituency at a press conference in the evening. After his release, the MLA sought votes by visiting houses in Yekkur and Alape areas till late evening.
The legislators were found seeking votes on the issue of development projects implemented and initiated. According to him, the party is in the third round of door-to-door campaign in the constituency.